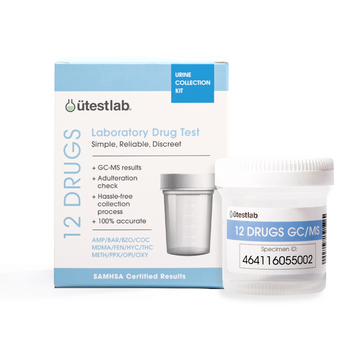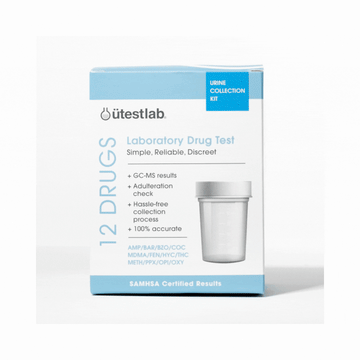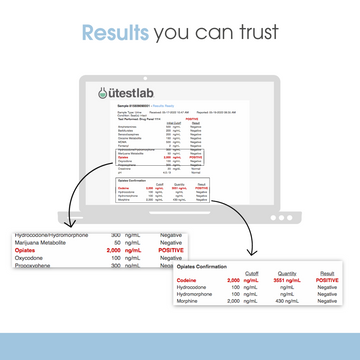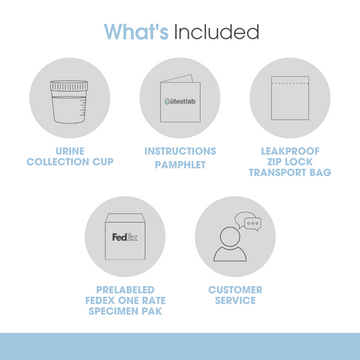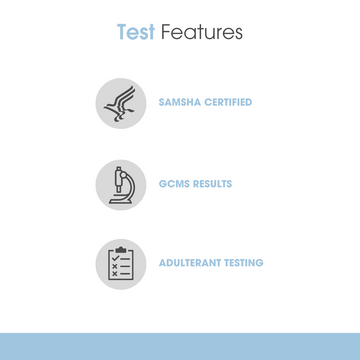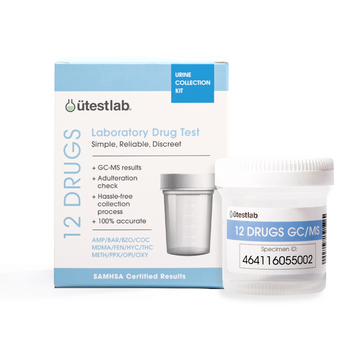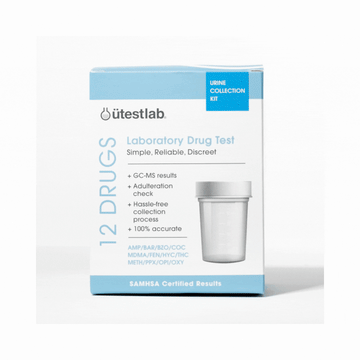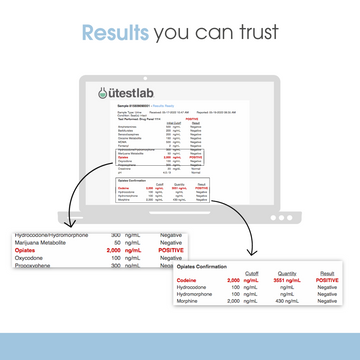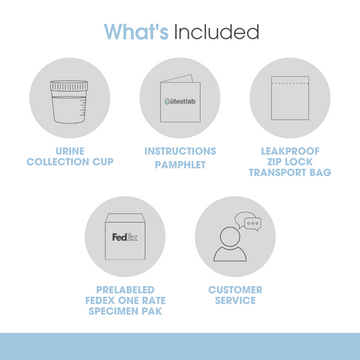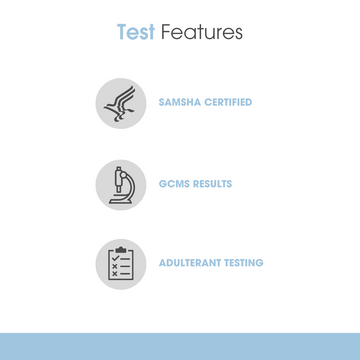 12 Drugs Home to Laboratory Drug Test
This laboratory-based 12 drugs test is designed to provide a discreet and convenient way to get laboratory results from home. 
ÜtestLab products are only available to US based customers.
Detects the exact presence (ng/mL) of metabolites from 12 drugs in human urine: Amphetamines/Barbiturates/Benzodiazepines/Cocaine/ Ecstasy/Fentanyl/Hydrocodone/Marijuana/Methamphetamine/ Propoxyphene/Opiates/Oxycodone

Includes FedEx 2 day shipping

Results available within 3-5 days of shipment

For more information, visit the UtestLab website
OTHER INFORMATION
+ How it works

5 Step Process:

1. Register online with our secure log in
2. Collect a urine sample
3. Prepare urine sample for shipment
4. Drop of specimen at nearest FedEx location
5. Receive results
+ Laboratory feature

SAMHSA Certified
Substance Abuse and Mental Health Services Administration (SAMSHA) is the highest-level laboratory certification that provides the most accurate and reliable test results.

GC-MS results
Gas Chromatography-Mass Spectrometry (GC-MS) is the gold standard of analytical testing. This method specialized in providing quantitative results that are 100% accurate.

Adulterant testing
This testing method detects substances that are intended to change a natural urine sample (i.e. addition of water, bleach, soap, salt, vinegar, cleaning products or chemicals).
+ Additional services

Medical Review Officer
UtestLab offers board-certified MRO services as a discretionary resource. Have your results explained by a licensed medical doctor regard a positive test result.

FedEx Overnight Shipping
Upgraded shipping is available and guarantees delivery of your urine sample within 1 business day.

For more information or to purchase the additional services, contact info@utestlab.com.
+ What's included

Urine collection cup
Instruction pamphlet
Leakproof transport bag
Pre-labeled FedEx 2Day Pack
+ Why ÜtestLab?

100% Accurate
No insurance needed
Discreet & confidential
Hassle-free collection
Easy to read results within days
+ Pre-testing

Prior to collecting your urine sample, abstain from using any THC, CBD, detox and/or diluting products. Additionally, do not drink an abnormal amount of water or any fluid. This may alter the natural state of the urine sample, resulting in an inaccurate test result.
+ Understanding your results
+ Shipping information

Same day shipping! Orders placed Monday-Friday before 10am PST will ship on the same day.
All orders are shipped and delivered in discreet packaging.