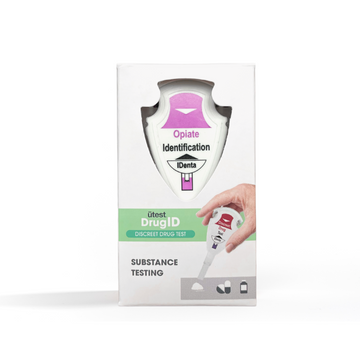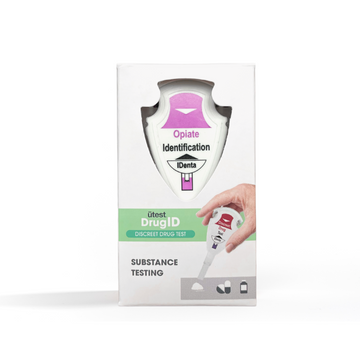 DrugID - OPIATES
Opiates Substance Test
Tests for the presence of Opiates in powder/substance
Safe, easy to use and results within minutes
Positive results =

The appearance of a purple color indicates the presence of an opiate such as Heroin, Morphine or Codeine.

All results are presumptive, confirmatory testing should be done by a lab
Includes: test(s), instructions, test translation & gloves
OTHER INFORMATION
+ Pre-testing

As a precaution, gloves and eye protections should be worn when testing substances. Do not puncture the
test. Do NOT remove the probe once the capsule is broken. In the unlikely event of a spill, rinse affected area thoroughly with water. Keep out of the reach of children. All results are presumptive. If necessary, confirmatory testing should be done by a lab. Do not use after the expiration date. The test is for single use.
+ Taking your test

For detailed instructions, refer to the instructions included with the test or email customerservice@utestdrugtesting.com
+ Understanding your results

Negative (clean)
2 lines appear; one next to "C" and one next to the "T"
The color of the T line may vary, even a faint "T" line = negative (clean) result

Positive (dirty)
Only one line next to the "C" appears


Invalid
No visible lines appear
No line next to the "C" appears
*Contact customer service if the result is invalid


Questions? results@utestdrugtesting.com
+ Shipping information

Same day shipping! Orders placed Monday-Friday before 10am PST will ship on the same day. All orders are shipped and delivered in discreet packaging.
+ Disclaimer

NOTE: This test (assay) provides only a preliminary qualitative test result. Use a certified laboratory to confirm your results via Gas Chromatography/Mass Spectrometry (GCMS).
+ Misc.

Drug test kit marijuana, drug test, thc test strips for marijuana, marijuana test, thc drug test urine, urine cups, urine drug test, drug tests, drug test kit, home drug test, marijuana drug test, thc drug test, marijuana drug test urine, home thc test kit, urine test, weed test